We have been working hard behind the scenes to bring new updates to our technology and 2022 is going to be a huge year for us with exciting new white labelled product launches.
This update is the first stage of the upcoming changes to our services that will happen throughout 2022. My Client Zone is changing to a platform which will host two different apps: introducing … My Music Account Zone and My Music Distribution Zone (MMAZ or MMDZ for short).
Your clients will still be able to utilise the current links they use to log into your white labelled My Client Zone account. The URL will re direct you to the new log in portal but the URL will be displayed differently and will now mention MMDZ or MMAZ. If you're looking to mask this URL, please contact your white label client's rep who will be able to send you a document on how to update this.
On accessing your account, you will see the style and format of the login page has changed slightly (please see the screenshot image below):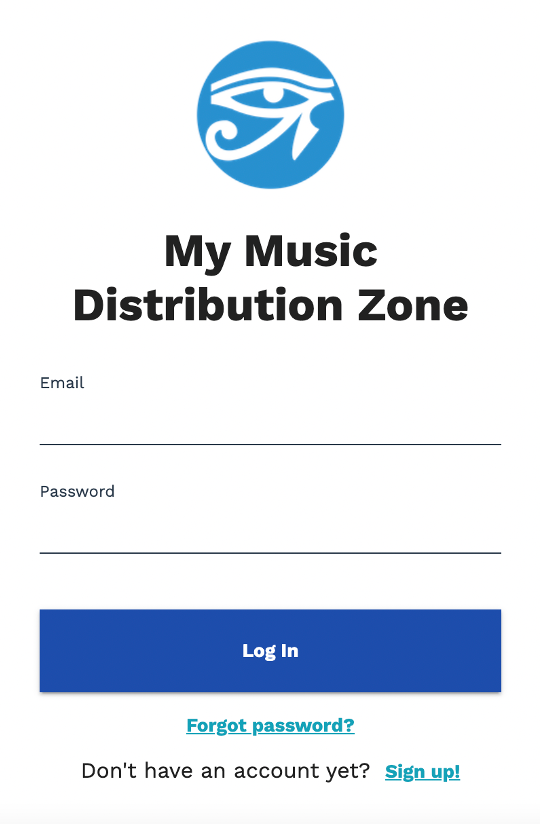 The username and password you usually use to log in should still work but as with any new tech upgrade there may be issues, so if you have any difficulties, please contact us to help you out.
The next page that you'll be taken to after you've successfully logged in will no longer be your dashboard but a new page for you to access either 'My Music Account Zone' or 'My Music Distribution Zone'. Clicking on the blue logo will take you to the relevant account.

Next time you log in, if you've clicked first on MMDZ then you'll automatically be taken straight to that page rather than the landing page. Similarly, if you first click on My Music Account Zone Page, you'll then be taken to the My Music Account Zone page.

My Music Distribution Zone
To start uploading your music and video releases, or checking your royalties, you'll want to click on the blue My Music Distribution Zone logo. Once you've clicked this you'll be taken to your dashboard. This is the same page you would usually see if you logged into My Client Zone before this new change.

My Music Account Zone
Here is where you can manage your account. Your personal email ID, first name and surname will all be populated from any data that was entered on My Client Zone. You have the ability to add a photo of yourself if you want to, please note this is just for your account with us and won't be used anywhere on DSPs. Additionally, you can see when you first signed up to work with us and agreed to our terms of use, privacy policy, distribution terms and conditions and policy on streaming manipulation. As well as when you last logged onto the site.

My Account will be the new place for you to manage accessing your account and you can change your password.

We also have a preferences tab where you can pick what format you'd like any downloadable reports to be encoded in.
In most instances UTF-8 will be more than sufficient, and it has less bytes so it's quicker to download reports than UTF-16LE. If you've used the My Client Zone platform before to download reports such as metadata or royalty reports and never changed the encoding preference, then you will have been downloading them in UTF-8.
You should use UTF-16LE if you've used any non-Latin characters in your releases such as Japanese, Chinese, Bengali, or Korean languages.
A release title in Chinese downloaded in UTF-8 may be displayed as unreadable symbols such as '$(%@*£'. If this has happened when you've downloaded a report, try switching this to UTF-16-LE and that should fix the issue.

From My Music Account Zone if you want to access your distribution account you need to click on the App Selector button in the top right hand of the screen and then click on the My Music Distribution Zone icon.

From here you'll be taken to your familiar MMDZ Dashboard.
From the MMDZ page if you want to get back to the Account page, you just need to click on the top right button or 'The App Selector' and then click on 'My Music Account Zone'

Thanks for using My Client Zone as your white label music and video distribution platform.
If you have any additional questions, please don't hesitate to reach out.
We are looking forward to announcing many new updates in 2022!